There are many variations of this fabulous recipe, regional recipes across Malaysia, Singapore, Indonesia and many discussions as to the origin! Regardless of who can claim ownership or which is the most authentic the one thing they all have in common is the savoury sauce made from sweet potatoes.
Each bite is full of sweet savory chili and will leave you begging for more. Team that with chunks of diced beef flank and Ikan Bilis. Yumm!!!. 
And to top it off is the udang geragau and crispy shallots! A must!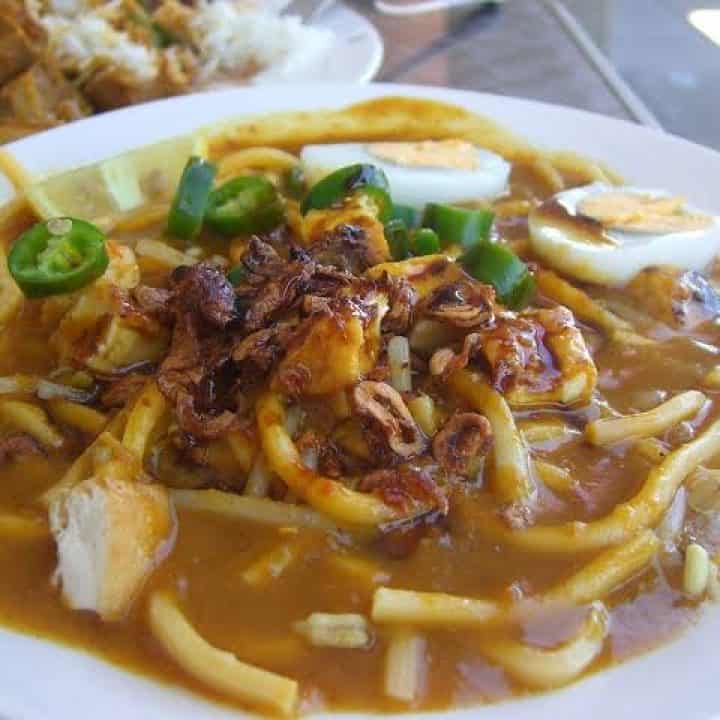 Mee Rebus - Malay Noodles
Don't be scared off by the long list of ingredients, this dish is extremely easy to make and completely delicious!
Ingredients
1.5 liters of water (B)
2cm ginger (B)
3 garlic cloves (B)
salt to taste (B)
600g beef flank (B)
700g sweet potato (P)
1 lemongrass stalk (P)
4 shallots (R)
4 garlic cloves (R)
15 dried chilis (R)
2 lemongrass stalks (R)
3cm galangal (or ginger) (R)
1 candlenut (R)
50g dried shrimps (R)
40g ikan bilis (R)
3 tbsp oil (R)
4 tbsp meat curry powder (R)
3 tbsp fermented soya bean paste (R)
1 tbsp gula melaka (G)
1 tbsp salt (G)
600g yellow noodles (egg noodles)
6 boiled eggs
3 sliced green chilis
500g tofu (firm and deep fried)
300g bean sprouts
3 calamansi (or lime)
6 tbsp fried shallots
fried udang geragau to garnish
Instructions
Bring 1.5 liters of water to the boil. Add beef flank, ginger, garlic and salt to taste to the water and simmer for about 45 minutes to 1 hour. Simmer until the beef is tender. Once cooked remove the beef and dice into small cubes. Strain the beef stock and set aside for use later.
Remove the skins from the sweet potato and rinse under cold running water. Steam the potato, with 1 stalk of lemongrass, for about 20 minutes until soft. Cut the potato into small cubes and place in a blender with ½ cup of water and puree. Set aside.
Prepare the Rempah (Paste). Roughly cut the shallots, garlic, dried chili, lemongrass, galangal, candlenut, dried shrimp, rinsed ikan bilis, curry powder, soya bean paste and 1 tbsp oil and blend into a smooth paste. If required add some water to enable easier blending.
Heat the remaining 2 tbsp oil in a Wok until hot.
Add the rempah (paste) to the wok and stir fry until fragrant (about 10 minutes).
Add 1/2 cup of the beef stock into the rempah and mix well.
Add the pureed sweet potato, beef cubes and mix well.
Add another 1 cup of beef stock plus salt and gula melaka (to taste)
Bring to the boil, and add any remaining beef stock to achieve the gravy consistency you prefer.
To prepare the meal: In each serving plate add some yellow egg noodles and beansprouts. Pour enough of the hot gravy so the beansprouts and noodles are covered.
Top with some fried shallots, green chilli, fried tofu cubes, sliced boiled egg, calamansi and fried udang geragau.
Serve immediately.
Notes
(B) - Beef Broth Ingredients
(P) - Sweet Potato Ingredients
(R) - Rempah Ingredients
(G) - Gravy Ingredients
Recommended Products
As an Amazon Associate and member of other affiliate programs, I earn a small percentage from qualifying purchases. Be assured the only products I recommend are those I know and use
Nutrition Information
Yield

6
Serving Size

1
Amount Per Serving
Calories

469
Total Fat

13g
Carbohydrates

66g
Fiber

16g
Protein

29g